Safe & Fast
Fifa 21 coins
Buy Safe
Fifa 21 coins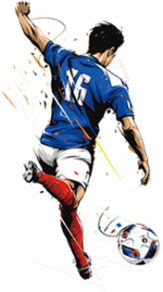 Super Fast Delivery
More than 85% of orders are processed in less than 20 minutes.
100% Satisfied Gamers
Since Fifa 2112 thousand of customers trust our innovative shop & services.
Instant Order without Login
Simple & anonymous order as guest with secure online payments.


Monete FIFA 21 per PS4
Uno dei giochi sportivi più emozionanti e coinvolgenti là fuori, FIFA, è diventato rapidamente una tendenza di gioco tra molti giocatori. Se sei un fan di lunga data di questo gioco, sarai entusiasta di sapere che il gioco è uscito con una nuova versione: FIFA 2121. In poche parole, le monete FIFA 21 sono la valuta di base utilizzata nella modalità Ultimate Team nella FIFA 21 per console PS4. Queste monete PS4 possono essere utilizzate per acquistare giocatori difficili da ottenere. L'acquisto di monete FIFA Ultimate Team (FUT 21) è un modo efficace per ottenere monete più velocemente. Questa è un'alternativa migliore semplicemente aspettando in giro per guadagnare più monete attraverso SBC e altre sfide.
PERCHÉ ACQUISTARE MONETE FIFA 21 PER PS4?
L'acquisto di monete PS4 FUT 21 è un modo più sicuro e veloce per giocare poiché è stato un metodo accettato dalle versioni precedenti del gioco. Puoi costruire nel tempo la tua squadra di stelle invece di dover affrontare il noioso periodo di gioco con giocatori mediocri prima di riuscire a sbloccare i giocatori di stelle .
Puoi acquistare le tue monete FIFA 21 visitando alcuni siti Web che ti consentono di acquistare monete online. Fai attenzione che ci sono molti affari falsi in attesa di truffarti con i tuoi soldi. Prima di acquistare queste monete FUT FIFA per PS4, assicurati di alcune cose:
Assicurati che il posto che stai acquistando sia una piattaforma di gioco FIFA online rinomata.
Assicurarsi che il sito Web sia facile da usare.
La piattaforma di gioco online dovrebbe essere sicura; garantire che le informazioni personali non vengano divulgate.
Il sito Web dovrebbe fornire tutte le informazioni necessarie per procedere con la procedura.
IL MIGLIOR SITO WEB DI VENDITORI DI MONETE FIFA 21 PER PS4
Se stai cercando di acquistare monete FIFA 21 online ma non sai dove andare, MrGeek è dove si trova. Siamo una delle piattaforme di gioco online migliori e più rinomate che sicuramente ti faranno godere della piena esperienza della modalità Ultimate Team di FIFA 21.
Stiamo vendendo 50.000 monete FIFA 21 per circa € 5,90. Questa è un'ottima offerta poiché ti consente di sbloccare giocatori come Inaki Williams e Zaha . Accettiamo pagamenti tramite bonifici bancari e PayPal. PayPal è il modo più rapido e sicuro per pagare online. E ti consente di pagare tutte le tue cose preferite online. Per i trasferimenti bancari, utilizziamo il sistema di pagamento certificato TUV Saarland. Ciò ti consente di pagare in modo sicuro e senza problemi.
Siamo il principale negozio online europeo per quanto riguarda le piattaforme di gioco. Fare affari con MrGeek significa che avrai la possibilità di sfruttare quasi 12 anni di esperienza sul mercato, quindi sai che otterrai il miglior rapporto qualità-prezzo.
MrGeek ti consente di creare il tuo FIFA Ultimate Team con una raccolta completa di giocatori. Altrimenti, puoi tagliare la macinatura per le monete quando acquisti un account FIFA 21.
MrGeek
Player Auction
Advantages
Do not give your
account Credential
24/7 avaible and
Full automatic
Easy and simple
understanding system
How it works
Step 1
We\'ll give you a players pack which is a list of players that we ask you to put on the transfer market.
Comfort Trade
Advantages
Most comfortable
transfer way
It is not needed to do any
thing by yourself
Automatic check and
control from our system
How it works
Step 1
Provide login credentials.