Time is ticking and it's a countdown for the hottest event for EA's FUT 20: The team of the year or simply TOTY (Ultimate XI)
At the time of writing this post, the result is yet to come, but once the result is out, the post will be updated with the final TOTY.
What is TOTY?
TOTY stands for the "Team of the Year", an imaginary team which is consisted of the world's best football players. And is announced each year around January 6~10th.
Traditionally, a list of well performed players will be nominated in each position to be elected as the player in the TOTY, making the ultimate team a dream and the most wanted team in the world.
What's New in TOTY?
This year (2020), surprisingly, the users can vote for the TOTY at EA's website, on the TOTY page. Therefore, as of this year, your vote will have an effect on the final results.
The Nominees of TOTY
There are dozens of players nominated for TOTY in the positions of Goalkeeper, Midfielder, Defender and Attacker, each of which, chosen based on their well performance in the past year. Here's the list of nominees for TOTY UltimateXI:
Goalkeepers:

Alisson (Liverpool)
Ederson (Manchester City)
Jan Oblak (Atlético de Madri
André Onana (Ajax)
Marc-André ter Stegen (FC Barcelona)

Midfielders:

Kevin De Bruyne (Manchester City)
Paulo Dybala (Piemonte Calcio)
Christian Eriksen (Tottenham Hotspur)
Fabinho (Liverpool)
Kai Havertz (Bayer 04 Leverkusen)
Jordan Henderson (Liverpool)
Frenkie de Jong (FC Barcelona)

Defenders:

Jordi Alba (FC Barcelona)
Jordi Alba (FC Barcelona)
Trent Alexander-Arnold (Liverpool)
Leonardo Bonucci (Piemonte Calcio)
José María Giménez (Atlético de Madrid)
José María Giménez (Atlético de Madrid)

Attackers (Forwards):

Sergio Agüero (Manchester City)
Pierre-Emerick Aubameyang (Arsenal)
Karim Benzema (Real Madrid)
Roberto Firmino(Liverpool)
So, as you can see, the TOTY nominees are mainly from FC Barcelona, Real Madrid, Liverpool, Atletico Madrid, Manchester City, Arsenal and other clubs.
TOTY FUT Packs
As a reward of the TOTY title, the players who win will be awarded a TOTY FUT pack for a limited time in the FIFA Ultimate Team.
TOTY Results for FUT 20
And the winner is:
Alisson Becker
Andy Robertson
Virgil van Dijk
Matthijs de Ligt
Trent Alexander-Arnold
Frenkie de Jong
Kevin De Bruyne
N'Golo Kanté
Kylian Mbappé
Sadio Mane
Messi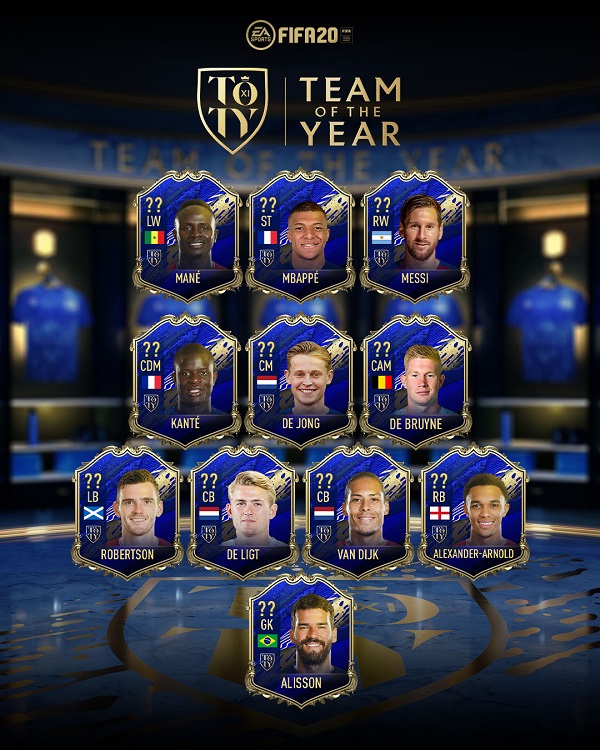 Tags