FC 24 COINS
If you want to build a strong team as fast as possible in EA FC 24 Ultimate Team, you will need a lot of FC Coins. FC Coins are the virtual currency that you can use to buy players, packs, and items in the game. However, not all players in EA FC 24 Ultimate Team are easy to get. Some of them are very expensive and only a few people can afford them, especially in the first few weeks after the game is released. You might think that EA sport fc Points can help but the only way to get them is money.
Here we will introduce other way that can help to get quickly access to fifa 24 coins.
EA FC 24 Ultimate Team: Sniping is a quick way to get fut 24 coins

The most time-consuming trading method is sniping. You spend a lot of time on the Transfer Market trying to get cheap deals on expensive players. This depends on someone else's mistake and their low offer for their player. Sniping is not easy, because many players in EA FC 24 use it. It is also harder because of the bots on the Transfer Market. The computers can buy players faster and automatically at a lower price than their real value, unlike a gamer with the controller.
If you haven't built your dream team yet and are looking to buy fc coins, check mrgeek.net now, check the prices, I can confidently say that the best price of fut 24 coins for all consoles (PS4/PS5,PC and XBOX) you will find only on the MrGeek website.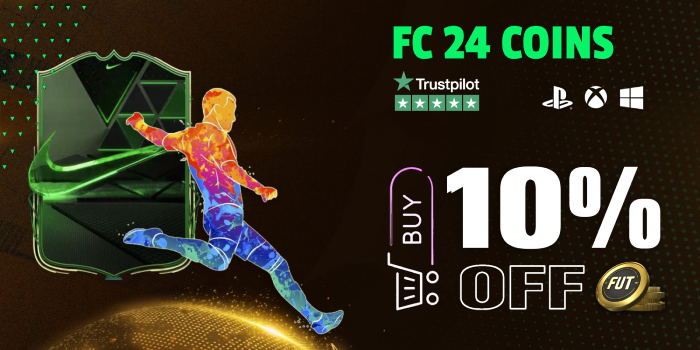 EA FC 24 Ultimate Team: Trading through inflated prices

Trading through inflated prices is a trading method that involves buying players or items at a low price and selling them at a higher price than their market value. This method can help you make coins fast in EA FC 24 Ultimate Team, but it requires some patience, research, and luck. A less reliable option is to list your players on the market at inflated prices. You might get lucky and have other gamers buy your cards by mistake at a high price and earn your profit. But you shouldn't count on it, as everyone in the community cares about their precious coins.
EA FC 24 Ultimate Team: Trading is a fast way to earn fifa 24 coins
Trading is the main way for many players to achieve quick success in EA FC 24 Ultimate Team, just like in the FIFA games. The market prices change almost like real-life stock prices, and only a few cards can keep their very high price stable. But trading is not mainly about these cards.
The players who perform well on the weekend in their leagues have a higher chance of getting a card in the team of the week on the next Wednesday. If you buy this player multiple times fast enough and he actually gets in the team of the week, the normal gold card of that player will be less available on the transfer market for at least a week - and the price usually goes up. Also, the prices of normal gold cards can go up if, for example, their club is in a popular squad building challenge that requires players from that club.
The live special cards of the Road to the Knockouts promo might be the best option for trading. As the group stage of the UEFA competitions nears its end, it will be more obvious which teams will qualify for the next round and which Road to the Knockouts special cards will receive an upgrade.
You can use your football knowledge and take some risk to buy specific special cards of the promo event. If the teams perform well, you can sell them for a high profit on the transfer market.