Lots of matches are being played in January 2020 and some players stand out by scoring more goals than usual or goalkeepers who keep a clean sheet or midfielders who play extraordinary well and show up as playmakers.
This page tries to evaluate the records and facts that has been gathered so far to come up with some predictions for FIFA's POTM for January for each league and it's being updated every week to present the most accurate and up-to-date information.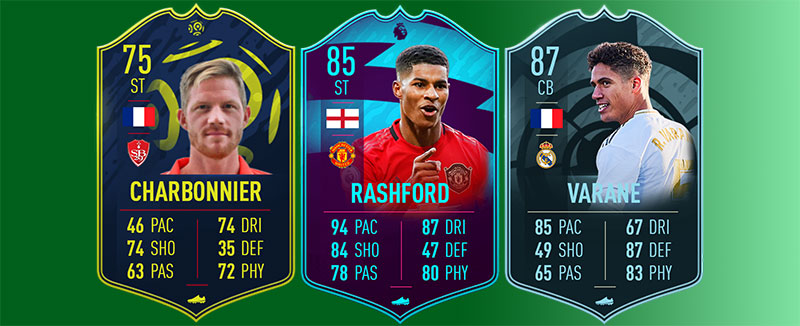 FIFA POTM Predictions for Premier League in January 2020
Liverpool has unquestionably been the top of all clubs in the past few weeks. The last time they lost a game was against Aston Villa which crushed them down to the ground by 5-0. It dated December 17th, and ever since, Liverpool has won every match so far. Their next match on Jan 19th is against Man United. We need if they can keep the no loss streak.
Sergio Aguero from Manchester City
Aguero scored three goals vs. Crystal Palace and Sheffield United. There's a high possibility that he's elected as the POTM in January.
Raul Jimenez from Wolverhampton Wanderers
Jimenez saved the day in their match against Southampton and scored another goal vs. Liverpool. I would pick him for POTM.
Mohamed Salah, the Egyptian forward of Liverpool
He is a great player and currently number 9 in the top scorers in Premier League. 2 goals and one assists so far.
Marcus Rashford from Manchester United
He scored two goals so far, both of which in the game against Norwich. He has been the best finisher so far so the chances of POTM is high for him. Rashford is the second top scorer of Premier League so far.
Chris Wood from Burnley
Wood is also a contender in POTM by scoring 2 goals and 1 assist.
Harvey Barnes from Leicester
Barnes also has performed good in January.
Adama Traore from Wolverhampton Wanderers
Traore also has been a great playmaker. There are chances for him as well.
Other players that performed really good include:
Martinelli Arsenal
Jorginho Chelsea
Dominic Calvert-Lewin Everton
Ayoze Perez Leicester
Roberto Firmino Liverpool
Marcus Rashford Manchester United
Florian Lejeune Newcastle United
Teemu Pukki Norwich
Stuart Armstrong Southampton
Lucas Digne Everton
Trent Alexander-Arnold Liverpool
Juan Mata Manchester United
FIFA POTM Predictions for Bundesliga in January 2020
The matches in January 2020 were hot with lots of goals in each game. Let's have a look at the players that performed really good.
Erling Braut Haaland from Borussia Dortmund
Haaland has been unquestionably the best finisher in Bundesliga in January and has a high potential of being selected as the POTM of Bundesliga in Jan. He scored 3 goals in their match vs. Augsburg.
Florian Niederlechner from Augsburg
And in the same match against Dortmund, Niederlechner played very well for Augsburg by scoring 2 goals. High possibility for being the POTM.
Jhon Cordoba from FC Köln
Cordoba is a great player. He scored two goals against Wolfsburg. There is a chance that he's selected as POTM.
Timo Werner from RasenBallsport Leipzig
Werner plays for Lebzig. He also has performed well against Union Berlin by scoring 2 goals. He's one of the nominees of POTM.
Kevin Volland from Bayer Leverkusen
Volland also showed up as a great player in their game vs. Paderborn. He scored 2 goals. He has a good chance of being selected.
These players also performed great and have chances of being chosen at the potm in Jan:
Nils Petersen Freiburg
Jadon Sancho Borussia Dortmund
Marcel Sabitzer RasenBallsport Leipzig
Ivan Perisic Bayern Munich
Thomas Mueller Bayern Munich
FIFA POTM Predictions for La Liga in January 2020
For La Liga in January 2020, there have been lots of hot matches going on. Eight matches have been played so far.
Let's have a look who stands out and is predicted to win the POTM of LaLiga.
Raphael Varane Real Madrid
Varane has played great in Real's match against Getafe. He scored two goals and there's a high chance that he's selected for POTM in January.
Luis Suarez Barcelona
Suarez scored one goal and assisted another goal in Barcelona's match vs. Espanyol. Such a great performance. He also has a chance to be selected as the POTM in LaLiga.
FIFA POTM Predictions for Ligue 1 Conforama in January 2020
The League 1 of France has been really hot with lots of goals so far in January.
Lots of players performed well so it's difficult to choose one for nomination for POTM. But here are MrGeek's POTM predictions:
Gaetan Charbonnier from Brest
Charbonnier has been great. In just one game, he has scored two goals and assisted another goal. Highly possible to be chosen for January POTM in League 1.
Bafode Diakite from Toulouse
Diakite also was a great player in Toulouse match vs. Brest. Although they lost the game, but Diakite scored the only two goals of his team. Highly possible to be chosen as the player of the month in Jan 2020.
Lots of other players performed great by scoring one goal and assisting another goal in just one match. The names include:
Moussa Dembele from Lyon
Gnaly Maxwell from CornetLyon
(Irvin Cardona) from Brest
Gaetan Laborde from Montpellier
There's a chance for them too to perform better in future matches to win the title of POTM in January.
Tags