You keep hearing terms like TOTW, POTM, TOTY, MOTM, etc. in FIFA communities and if you're a noob, you'd wonder what they mean. In this article, we'll talk about TOTW.
What is TOTW?
TOTW is short for the Team of the Week. There's a weekly event that is held by EA where the performance of football players in real life is observed and maximum 23 of best players are chosen to form a fictional team in FIFA video game. The players are chosen from all positions and all leagues. Every week on Wednesdays at 6:00 PM (UK time), the team of the week (TOTW) is announced on EA's website and also on EA's Twitter account. The TOTW's of each week of the year are known with their week number. For example, in the first week of the Premier League's season, you'd expect TOTW-1 and next week, you'd be expecting TOTW-2 and by the time of writing this article, FIFA 20 TOTW 25 is yet to be announced.
What's the point of the TOTW?
When the TOTW is announced, two things will happen:
New IF FUT card
The team of the week will be available to play against in offline mode. It's called TOTW Challenge.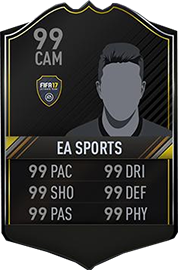 What's IF FUT card? IF stands for In-form. It is a player card with increased abilities. You may already know that there are different versions of each player available in FIFA 20. EA makes use of new events and special occasions like Christmas, Black Friday, POTM or TOTW to give out new versions or upgrades of players at a bigger price. So, IF cards are usually bought and sold with greater FIFA Coins compared to NIF (non-in-form) cards.
TOTW cards are highlighted by a black background so you recognize them. Sometimes they refer to these cards as "FUT / FIFA Black IF Cards". Having TOTW cards in your team will improve your squad's performance, and of course selling TOTW players will give you more cheap FIFA coins. That's why some gamers think of TOTW as means of making money. Actually there are communities that invest in TOTW using predictions.
TOTW Predictions
From goalkeepers, defenders, midfielders (half-backs) and forwards, each week several websites will share their opinions about who will be elected to be put in the team of the week. Of course, predictions and evaluations are based on personal opinions and some reports about the players' performance. So, they might turn out wrong or true when the TOTW is out each week.
How is TOTW selected
You'd wonder based on what criteria are the TOTW players chosen. In fact, it's not known how EA chooses the TOTW players for FIFA Ultimate Team. We know it has to do with the players' performance in real-life Football matches. So, for example, if a player scores many goals or saves the day by stopping the opponent's balls or by winning the MOMT (Man of the Match) title, these factors have a role in choosing the players for the team of the week.
As a result, those players acquire in-form cards for being in the TOTW. But what if they perform really good out of their own team's domestic league, such as in champions league or in their country's national team? Actually, TOTW would be given to international qualifiers (if they're not friendly games). But Champions league has nothing to do with TOTW. So, no matter how well the players perform on Champ league, it will not bring them an IF card.
The criteria by which the TOTW players are chosen must include:
Scored goals
Goal assists
Passing and ball possession
Opponent's difficulty
League's difficulty
Team's status
Player's popularity
MOTM
Saves
Penalties scored or saved
Is EA Cashing-in by TOTW?
There are lots of complains on forums blaming EA for giving out useless FUT packs so they would encourage gamers buy more and more FIFA points to open packs with not much luck to win good players. As a matter of fact, sometimes the complains are based on valid accusations. But in general, EA cannot stay on the "money making" position for long. Because it would discourage other players to buy the FIFA Ultimate Team game and would result in losing the market. If that happens, Buying FIFA points would be banned in many countries.
What's the Difference Between Tradeable and Untradeable TOTW Packs?
If you decide to put unwanted high-rated FUT cards in to TOTW upgrades, you might have both tradeable and untradeable TOTW packs. As the name suggests, treadeable packs open players that allow you to trade in the transfer market. Those TOTW untradeable packs give you players that you can only use in World Class SBC.
And you can keep a TOTW pack unopened if you predict next week would bring better TOTW players. So, if you open the packs then, you'd have a better luck with TOTW IF cards. That's where TOTW investors care about. They would check the TOTW predictions each week to see if they'd get better luck.
Futbin TOTW Results
Since the beginning of FIFA, Futbin has been the ultimate database for FIFA including the TOTW contenders, predictions and results.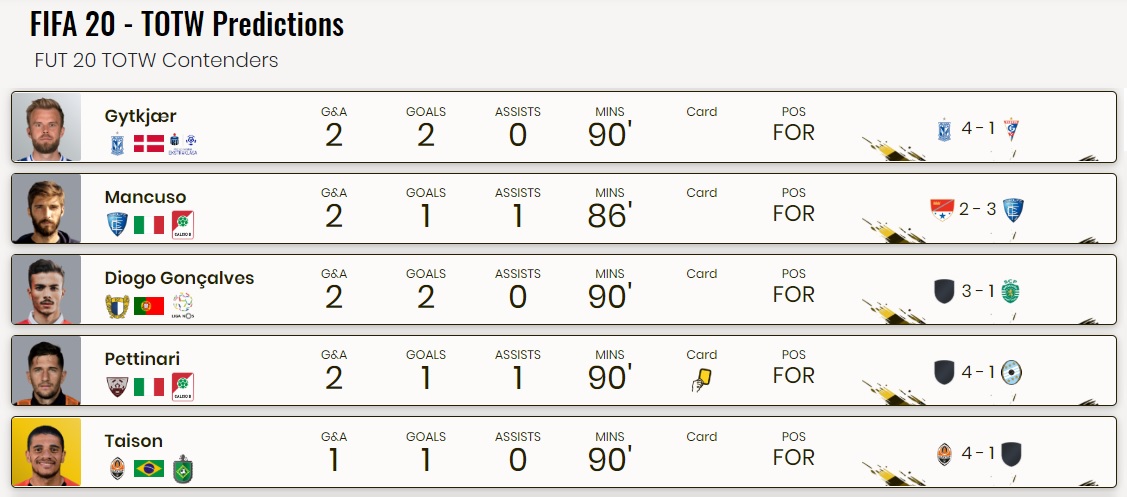 With the data provided for each player in the past week, including goals, assists, hours they played, yellow or red cards they've got and the match's results, etc, you can predict of the player will be selected for TOTW.
How much will be the increase in ratings for a TOTW player?
Over time, the amount of increase in ratings and the overall score of the players has been standardized so gamers would know in advance what should they expect when they open TOTW packs. Here's a rule of thumb:
75-77 IF card will be 81
78-79 IF card will be 82
80 IF card will be 83
81-82 card will be 84
83 IF card will be 85
84-85 IF card will be 86
86 IF card will be 87
87 IF card will be 88
88 IF card will be 89
89 IF card will be 90
90 IF card will be 91
And if the players win the TOTW again, their IF2 would receive 3 more points and their IF3 would get 2 more points and from then on, every time they achieve TOTW, their IF card would get 1 more point