What's a FIFA Coin and how to use it in FIFA 22?
Millions of gamers join a great community each year to play the most wanted Football simulation game: FIFA. With the latest launch of the game, i.e. FIFA 22, many new features were introduced that make the game as exciting as possible. However the main modes of FIFA, such as FIFA Ultimate Mode remains the same that enables the gamers build their squad and win games against their opponents online.
The gamers will have to use their FUT 22 Coins to buy great icon players such as Ronaldo, Messi, Lewandowski, Bruyne, and so on. And one way to earn FIFA 22 Coins is to win games online, which is a very difficult task when you have a weak team, which is the case for everyone when they start off with a new version of FIFA. One could ask if there are other ways to attain FIFA Coins? Like buying them?
Is it possible to buy FIFA 22 Coins?
Fortunately, alternative is to buy the FIFA Coins from a reliable seller. Let's see how one can buy FUT Coins to be able to add players to their own team.
There are two ways that you can buy FIFA 22 Coins for your account:
Player Auction
Comfort Trade
Comfort Trade is the easiest way. For that, you will provide your account's login information and let the FIFA 22 Coin suppliers take care of the job. Very simple.
Player Auction however requires more care and is trickier. In this article, we will discuss pros and cons of player auction as a method to transfer FIFA 22 Coins.
Risks of buying FIFA Coin
The whole idea of Player Auction transfer method is to sell players at a higher price than you bought and as a result, receiving FUT 22 Coins in your account and then buy players on transfer market.
But there are some pitfalls when it comes to buy FIFA Coins. The main problem is that EA's rules and guidelines that prohibit exchanging FIFA 22 Coins for real money.
You may know that there are FIFA Points which are offered by EA that you can buy with real money, but the problem is that points cannot be used in the transfer market to buy players with. You can only buy FUT Packs with FUT 22 Points. And that's not what we want here. We need players. We need that amazing Neymar in our team!
That's why we need a way to buy FIFA Coins, not FIFA Points. So, what can be done here? If you pay a 3rd party coin seller website and EA detects your transaction as unusual, it may result in your EA account being banned.
So, how to buy your FIFA Coin without getting in trouble? Basically, the coin selling website should have enough experience with accounts and transferring Fut coins so it doesn't jeopardize your account while transferring coins. That will narrow down your options when you want to find the best FIFA Coin website to buy coins from.
MrGeek out of many FUT 22 Coin suppliers comes up with a brilliant automated platform to transfer coins via player auction. That kind of automation makes the whole process fun and easy and also avoids lots of possible mistakes. No more human error, and thus less risks while transferring FIFA 22 Coins to your account.
Additionally, MrGeek comes with an innovative FIFA account safety checker calculator that helps users evaluate the safety of coin transfer before they even pay. It works without login or registration. You just answer questions and in the final step, it gives you an estimation of how safe your account is for buying coins in FIFA. We recommend that you evaluate your account now to see how it works out for you.
Buy FIFA 22 Coins with Player Auction Method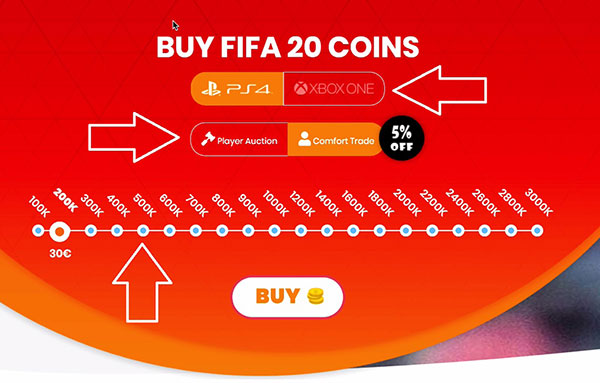 Now that we know how to secure our accounts with MrGeek, let's have a quick look at how you can buy FIFA 22 Coins with Player Auction method.
As mentioned earlier, in player auction you will sell unwanted and cheap players to MrGeek at a higher price and after selling a dozen of players, you will receive some thousand FIFA coins in your account enough to buy a great player for you team in transfer market.
In order to buy FUT 22 Coins via player auction, you'll basically need to pick your console and Player Auction as transfer method and the amount of the FIFA 22 Coins you need. Then click on buy.
Then you'd be redirected to the checkout page. In that step, you will need to sign up for a new account in MrGeek or simply click on Login as Guest. With that option you will not have to provide an email address or your name. Then you will make the payment and will go to your account page.
There, you will be given a list of players to sell to MrGeek, and that list is based on the amount of FUT Coins you have paid for and of course depending on the age of your account, a security measure to make sure EA will not flag your transaction as unusual. So, you will place the players on transfer market and then one by one using the BIN price that the system will tell you, and then click on search so the system will take a look at the market and finds your player. When it's found, you will click on Buy and that way the system will buy that player from you and the coins will be transferred to your account instantly!
When you complete the list, the amount of coin you will receive will be exactly the amount you paid for in the first step. That means, you will no pay for 5% of tax that EA gets on each transaction. So, it's safe, reliable and cheap for you. It's all possible when you buy FIFA 22 Coins from MrGeek. Let us know what great players you bought for your team. Happy playing!
Tags