Safe & Fast
Fifa 21 coins
Buy Safe
Fifa 21 coins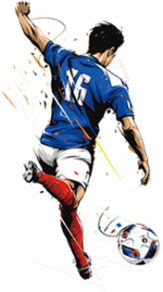 Super Fast Delivery
More than 85% of orders are processed in less than 20 minutes.
100% Satisfied Gamers
Since Fifa 2112 thousand of customers trust our innovative shop & services.
Instant Order without Login
Simple & anonymous order as guest with secure online payments.


Monedas FIFA para PS4 con subasta de jugadores
FIFA 21 se ha convertido en un juego en línea cada vez más popular entre todos los jugadores profesionales, especialmente los jugadores de FIFA PS4 en los últimos años. Las razones de esta popularidad van desde ser un gran juego con gráficos de alta resolución, jugadores reales, juegos reales y ser muy similar a los juegos de fútbol reales. Además de todas estas características que han ganado popularidad para el juego PS4 FIFA, ser un juego estratégico en el que puedes crecer por el juego, ganar riqueza y poder y ser reconocido como un gran jugador en todo el mundo ha ayudado a FIFA 21 a convertirse en uno de los mejores juegos el mundo y la historia.
Hay muchas estrategias de FIFA 21 para la implementación a fin de crecer y ascender en la escala dentro del juego de FIFA. Si quieres ser un gran jugador y jugador en FIFA, debes aumentar tu conocimiento del juego a diario y desarrollar tus estrategias de juego FIFA 21 a medida que creces y continúas el juego.
Una de las mejores características del juego FIFA 21 es una característica conocida como la subasta de jugadores. La subasta de jugadores es un mercado en el que puedes comprar y vender jugadores y paquetes y beneficiarte de monedas FIFA que ganes. Estas son las ventajas de la función de subasta de jugadores para FIFA 21 PS4:
Un mercado con una amplia gama de paquetes y jugadores para elegir
Puedes vender tus paquetes y jugadores con el mayor rango de precios posible
Se está haciendo dentro de una plataforma importante y reputada
Ayudarte a ganar monedas de FIFA todo lo posible
Una gran oportunidad para diversificar tus estrategias de juego
Uno de los mayores beneficios de la subasta de jugadores es que puedes vender a tus jugadores a precios máximos y luego usar tus monedas FIFA para comprar mejores jugadores y construir un mejor equipo para ti.
PS4 FIFA 21 es un juego estratégico que necesita una perspectiva a largo plazo para producir frutos. Para ganar, debes estar armado con diferentes tipos de estrategias y beneficiarte al máximo de todas las características que FIFA te ofrece. Intenta usar y comprar paquetes de plata y bronce, participa en diferentes competiciones y gana los juegos, ganando los juegos ganas paquetes de oro, con el mejor uso de paquetes de plata y bronce puedes comprar jugadores valiosos y luego, dentro de la subasta de jugadores de FIFA, puedes vender estos jugadores con los mejores precios, obtengan ganancias y utilicen sus monedas para el mejor equipo y los jugadores más poderosos.
Esta es la razón por la que debería utilizar mejor la subasta de jugadores de FIFA 21:
Véalo como una oportunidad de crecimiento
Crea una cartera de jugadores valiosos
Véndelos con los precios más altos y gana tanto como FIFA 21 monedas que puedas
Conozca las últimas ofertas, productos y servicios del mercado para obtener ganancias
Al usar una plataforma bien diseñada y reconocida para la subasta de jugadores de FIFA 21, puede estar seguro de que está vendiendo a sus jugadores con los precios más altos y mejores. Para elegir una gran plataforma para la subasta de jugadores, considere las siguientes características dentro de la plataforma:
Un sitio web muy bien diseñado y fácil de usar
Un lugar para su crecimiento al proporcionarle una excelente plataforma de blog
Altamente seguro y protegido mediante el uso de "https" y formularios seguros
Tiene una buena historia y muy buenas críticas de sus usuarios
Es una plataforma muy activa en la que todo se actualiza diariamente
Informarle sobre los últimos cambios, características e instalaciones de la FIFA
La línea de fondo
FIFA 21 para PS4 ofrece una gama diferente de características e instalaciones para permitir a los jugadores establecer estrategias diversificadas para comprar y ganar monedas FIFA y obtener ganancias. Teniendo en cuenta este conocimiento como jugador, debe conocer las oportunidades no solo de conocerlos y usarlos, sino también del mejor uso de ellos para obtener un buen beneficio. La subasta de jugadores para FIFA es una de esas oportunidades que le permite vender a sus jugadores con los precios más altos y obtener ganancias y comprar jugadores mejores y más poderosos para fortalecer su equipo durante el período de tiempo, obtener grandes victorias y ser conocido como uno de mejores jugadores de FIFA 21 PS4 del mundo.