Safe & Fast
Fifa 21 coins
Buy Safe
Fifa 21 coins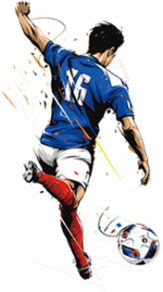 Super Fast Delivery
More than 85% of orders are processed in less than 20 minutes.
100% Satisfied Gamers
Since Fifa 2112 thousand of customers trust our innovative shop & services.
Instant Order without Login
Simple & anonymous order as guest with secure online payments.


FIFA pièces pour PS4 avec enchères de joueurs
FIFA 21 est devenu un jeu en ligne de plus en plus populaire parmi tous les joueurs professionnels, en particulier les joueurs FIFA PS4 au cours des dernières années. Les raisons de cette popularité vont d'être un grand jeu avec des graphismes haute résolution, de vrais joueurs, de vrais jeux et très similaires aux vrais jeux de football. Outre toutes ces fonctionnalités qui ont gagné en popularité pour le jeu PS4 FIFA, étant un jeu stratégique dans lequel vous pouvez vous développer par le jeu, gagner de la richesse et du pouvoir et être reconnu comme un grand joueur dans le monde entier, a aidé FIFA 21 à devenir l'un des meilleurs jeux de le monde et l'histoire.
Il existe de nombreuses stratégies de mise en œuvre de FIFA 21 afin de grandir et de gravir les échelons dans le jeu FIFA. Si vous voulez être un grand joueur et un grand joueur de la FIFA, vous devez approfondir vos connaissances du jeu quotidiennement et développer vos stratégies de jeu FIFA 21 à mesure que vous progressez et continuez le jeu.
L'une des meilleures fonctionnalités du jeu FIFA 21 est une fonctionnalité appelée enchères de joueurs. La vente aux enchères de joueurs est un marché sur lequel vous pouvez acheter et vendre des joueurs et des packs et bénéficier des pièces FIFA que vous gagnez. Voici les avantages de la fonctionnalité d'enchères de joueur pour FIFA 21 PS4:
Une place de marché avec un large éventail de packs et de joueurs au choix
Vous pouvez vendre vos packs et joueurs avec la gamme de prix la plus possible
Se fait à l'intérieur d'une plateforme majeure et réputée
Aidez-vous autant que possible à gagner des pièces FIFA
Une excellente occasion de diversifier vos stratégies de jeu
L'un des plus grands avantages de la vente aux enchères de joueurs est que vous pouvez vendre vos joueurs au prix maximum, puis utiliser vos pièces FIFA pour acheter de meilleurs joueurs et créer une meilleure équipe pour vous-même.
PS4 FIFA 21 est un jeu stratégique qui a besoin d'une perspective à long terme pour porter ses fruits. Pour gagner, vous devez être armé de différents types de stratégies et bénéficier au maximum de toutes les fonctionnalités que la FIFA vous offre. Essayez d'utiliser et d'acheter des packs d'argent et de bronze, participez à différentes compétitions et gagnez les jeux, en remportant les jeux que vous gagnez des packs d'or, en utilisant au mieux les packs d'argent et de bronze, vous pouvez acheter des joueurs de valeur, puis dans la vente aux enchères des joueurs de la FIFA, vous pouvez les vendre joueurs avec les meilleurs prix, faites des profits et utilisez vos pièces pour la meilleure équipe et les joueurs les plus puissants.
Voici pourquoi vous devriez utiliser au mieux les enchères de joueurs FIFA 21:
Voyez-le comme une opportunité de croissance
Construisez un portefeuille d'acteurs précieux
Vendez-les aux prix les plus élevés et gagnez autant que possible des pièces FIFA 21
Soyez au courant des dernières offres et produits et services du marché pour faire du profit
En utilisant une plate-forme bien conçue et réputée pour les enchères de joueurs FIFA 21, vous pouvez être sûr que vous vendez vos joueurs aux prix les plus élevés et les meilleurs. Pour choisir une excellente plateforme pour la vente aux enchères de joueurs, considérez les fonctionnalités ci-dessous à l'intérieur de la plateforme:
Un site Web très bien conçu et convivial
Un lieu pour votre croissance en vous fournissant une excellente plateforme de blog
Hautement sécurisé et sécurisé en utilisant "https" et des formulaires sécurisés
A une bonne histoire et de très bonnes critiques de ses utilisateurs
Est une plateforme très active dont tout est mis à jour quotidiennement
Vous informer sur les dernières modifications, fonctionnalités et installations de la FIFA
The Bottom Line
FIFA 21 pour PS4 offre une gamme différente de fonctionnalités et d'installations pour permettre aux joueurs de définir des stratégies diversifiées pour acheter et gagner des pièces FIFA et réaliser des bénéfices. Avec cette connaissance à l'esprit en tant que joueur, vous devez être conscient des opportunités non seulement de les connaître et de les utiliser, mais aussi de les utiliser au mieux pour faire de beaux bénéfices. La vente aux enchères de joueurs pour la FIFA est l'une de ces opportunités qui vous permettent de vendre vos joueurs aux prix les plus élevés et de réaliser des bénéfices et d'acheter des joueurs meilleurs et plus puissants pour renforcer votre équipe au fil du temps, remporter de grandes victoires et être connu comme l'un des meilleurs joueurs FIFA 21 PS4 du monde.