We want to share latest news and what we know about FIFA 23 Centurions event.

What is FIFA 23 Centurions event?
After winter wild cards Centurions promo is one of the events in the new year. A centurion is someone who has achieved great success for their club and has scored more than 100 goals. Despite their constant presence on the team sheet, these names are always at 100 percent, helping the badge deliver results week after week after week. Taking advantage of a Centurion's longevity in football, each Player Item upgrade provides them with game-changing boosts that elevate them from unsung in FUT to first on the team sheet.
How to get fut 23 Centurions players cards?

As other FIFA 23 players cards gamers need to FIFA point or FUT coins to get them. to collect fifa currency you should devote much time and energy if you want to get the coins faster in your account visit MrGeek website and buy fifa 23 coins. give 15% discount for FIFA Centurions event and 5% cash back on each purchase. Save up to 20% and buy fut 23 coins cheaper.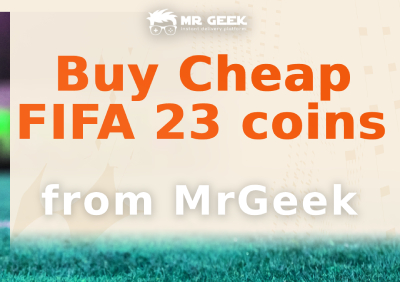 FIFA 23 Centurions release date
Fut 23 Centurion started on 6 Jan on Friday and Team 1 has been released by EA. Although the card design looks fantastic, we were expecting so much more from the promotion. Below are pictures of the cards, and they're not bad. In January, we won't have Front, but what are we going to do with the 85-rated cards? No one plays with Maxi Arnold or Flo Neuhaus in the Weekend League.

FUT 23 Centurions team 1

Ultimate Team packs with the FIFA 23 Centurions squad are now live. You can get them until Friday, January 13, 2023. Neymar leads Centurions Team 1. additionally, Presnel Kimpembe, one of PSG's more dominant players, is included in the squad, along with James Milner and Trent Alexander-Arnold, both of whom are 90-rated overall.
• CAM: Neymar Jr (Paris Saint-Germain) - 91 OVR
• RB: Trent Alexander-Arnold (Liverpool) - 90 OVR
• ST: Wissam Ben Yedder (AS Monaco) - 89 OVR
• LB: Jordi Alba (Barcelona) - 88 OVR
• ST: Jamie Vardy (Leicester City) - 88 OVR
• RM: Joaquin (Real Betis) - 87 OVR
• LW: Ante Rebic (AC Milan) - 87 OVR
• CM: James Milner (Liverpool) - 87 OVR
• CB: Presnel Kimpembe (Paris Saint-Germain) - 86 OVR
• CB: Alessandro Bastoni (Inter Milan) - 86 OVR
• CAM: Lorenzo Pellegrini (AS Roma) - 86 OVR
• CAM: Florian Neuhaus (Borussia Monchengladbach) - 85 OVR
• CDM: Maximillian Arnold (Wolfsburg) - 85 OVR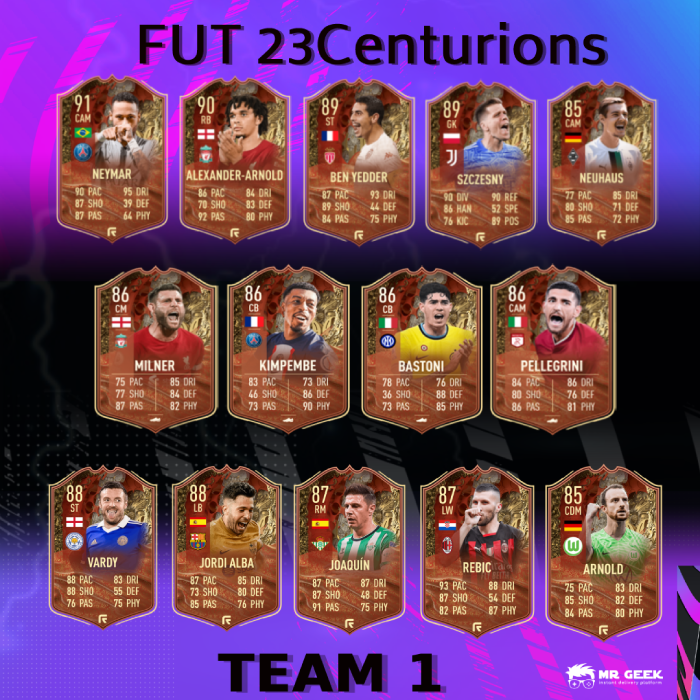 There will be two weeks of FUT Centurions promo, with Team 2 expected to be released on Friday, January 13 at 6.00pm GMT/1pm ET/ 10am PT. This means the promo is expected to come to an end on Friday, January 20, around the same time we could expect the TOTY promo to drop.

For more info about fifa event see FUT Events Calendar in FIFA 23 and don't forget to check our website for new discount and news.