The importance of having FIFA coins

After you've chosen the Best Formations and Custom Tactics for FUT, it's time to fill them with the best players. FUT players must know how to make Coins fast in order to complete Squad Building Challenges, which require them to be purchased from the Transfer Market or to be used for other purposes.
The currency in FUT 23, also known as FIFA Ultimate Team, is coins, which are essential for building your squad. Every time you play a match in FUT 23, regardless of whether you win or lose, you'll earn Coins. The game requires a lot of FIFA Coins in order to sign some of the best players. We will tell you all about the methods available and how you can make the most of them.
we'll share some strategies that should help you make Coins in FUT using our FIFA 23 guide.
This is a list of what we need to do in order to make FIFA coins

A) Take part in as many matches as you can
B) Taking part in squad battles and competing with division rivals
C) Take advantages of transfer market opportunities to snipe players
D) Players you don't need should be sold
E) Keep an eye on SBCs
F) Buying gold packs is not a good idea
G) You need to remember your managers, consumables, and more
Buy fut 23 coins from MrGeek

You can also purchase fifa coins which is the easiest way of earning them. You don't need spend much time and energy. So, find a safe place such as MrGeek and buy fifa 23 coins 20% cheaper and with no time consuming. Fast, easy and safe method is now in your hand just register on the website and enjoy of high-quality game with no much effort.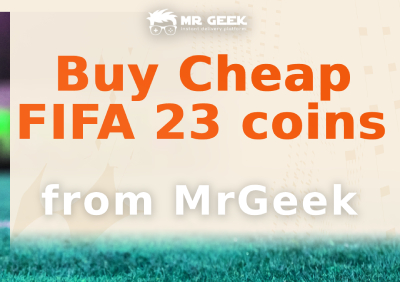 Earn fut coins by playing several matches

Coins are earned when you finish FUT matches. If you have active coin boosts from completing milestones, your coins will grow quickly.
Keep in touch with Division Rivals and Squad Battles

Take part in Division Rivals and Squad Battles every week. You will accrue points every seven days for winning, as well as losing, matches in the former. These points will help you reach further reward levels. Also, you can buy during Division Rivals and Squad Battle reward periods, when there will be a sudden influx of new cards, or during in-game Lightning Rounds when high-value packs go on sale. You can choose between Coins, Packs, or a mixture of the two.
Snip Players from Transfer market

The Transfer Market sometimes shows players selling for considerably less than their value if you keep an eye on it - whether in-game, using the Web App, or using the smartphone Companion App. Try your luck and place a bid if the auction is close to completion.
Sell unwanted players

Selling cards, you don't use is often a smart idea. Depending on your luck, you might be able to include a highly rated or meta player in your team, or you may decide to simply cash in on them. Keeping an eye on the average selling price of players on third-party websites will help you avoid being taken advantage of. We'd recommend exercising some patience and selling when prices are high, usually on Thursday evenings through Friday mornings.

Have special attention to SBCs

Whether you plan to complete these yourself or not, it can be a smart idea to pay attention to the completion requirements, as this can affect the value of Players on the Transfer Market, including even low-value Players like Bronzes and Silvers. Team of the Week cards, or other promotional players, can see a spike in value as fans rush to complete the latest SBCs. Therefore, sometimes it can be worth holding on to rare cards and flipping them at the appropriate moment. Try to pick peak hours to sell these players. This is because if there are more people online trying to complete SBCs at the same time, then this can help to drive up the value of your auctions.

Don't spend money on purchasing gold packs

We don't suggest to buy gold packs with your fut coins. This is because, between Squad Battles, Division Rivals, Seasonal Milestones, and SBCs, there are lots of methods for earning these packs. Furthermore, because these packs are so easy to earn, the Transfer Market is often flooded with Gold Players, driving down their overall value considerably so don't waste your coins for having these packs.

Don't forget manager and more

Managers offer important boosts to teams based on their League, so are still a critical factor of the FUT 23 experience. This means that they are valuable, so if you have no use for certain gaffers, then flog them and get some easy Coins. Another thing to consider is buying players from the Transfer Market with the Chemistry Consumable you want already equipped. While this won't necessarily make you Coins, it will save you them, as you won't need to dive into the Transfer Market to buy the Consumables you want. Similarly, if you sell Players with a Chemistry Consumable attached, you can really increase your profit, especially if it's a Shadow or Hunter item. Flogging off Cosmetics, like Kits and Stadium Items, won't earn you many Coins, but if you have a collection full of items you don't intend to use, it can add up quite quickly when you sell them off.