During the hottest days of summer 2020, the hottest news in gaming industry is out and that is, the new version of the renown FIFA video game is released and ready to be pre-ordered: FIFA 21.
The long-waited release comes with hot new features that creates more excitement while playing. Let's have a look at the key features of FIFA 21 to see how it's different than the predecessor versions.
FUT Co-op in FIFA 21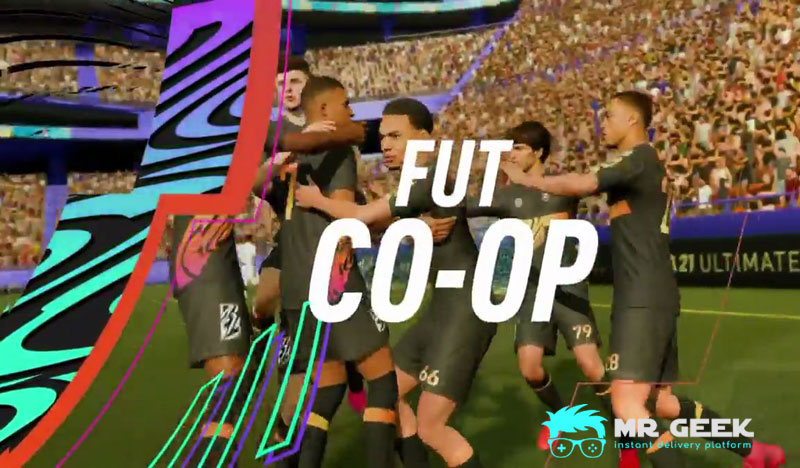 They call FIFA 21 "the most social FIFA Ultimate Team ever"! It's because the new features enable gamers to play with their friends "together" and thus share the rewards. It's something new that was never possible in previous versions of FIFA.
So, FIFA Co-op is simply inviting a relative or friend to play along with you in the same game against your opponents or playing solo in Division Rivals and then receive a boosted FIFA 21 Coins for each of you, more than the reward you get when you play alone in FUT.
You will have the chance to play against AI or Squad Battles, just like FIFA 20.
In FIFA CoOp you will make progress in your individual weekly competitions and your team will be rewarded in FUT coins. So, that makes it three modes: Play Co-Op, Assist in Co-Op and CoOp Rivals. Once you've done these objectives, you'll receive something like 150, 450 or 900 XP as group reward.
FUT Events in FIFA 21
Fut Events allows you to join with other FUT Players around the world in playing FIFA and sharing results. That's one of the new features in FIFA that makes the game even more social that before. So, you'll pick a hashtag for your team like: #TeamHaaland or #TeamJaoFelix.
When you pick a side in the FUT Community, you'll unlock FUT 21 Packs, FIFA 21 Coins, Club items or players with the new team events. So, just like Co-Op you'll work together with global gamers and earn "shared rewards" by completing objectives in community Events. So, they will ask you for example to win 4 games, and once it's done all global cooperators will receive shared FUT 21 Coins.
FIFA 21 Meaningful Moments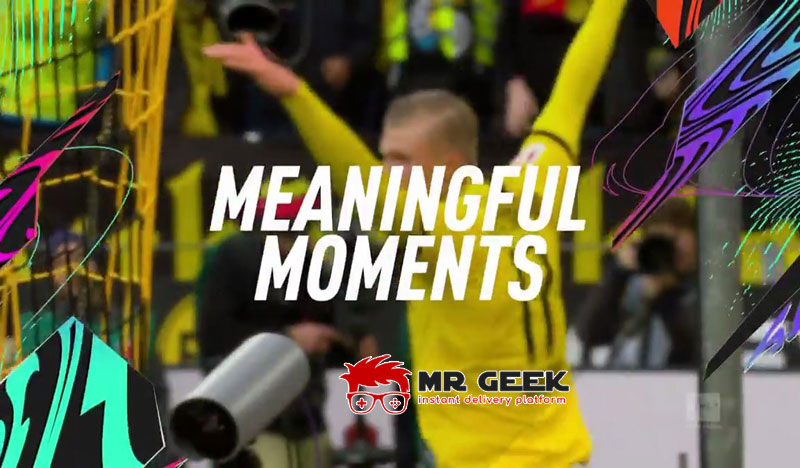 This season what happens in real Football world, such as great saves or super scores from real Football players will be reflected significantly in Meaningful Moments of FIFA 21. Goal headers will receive boosted heading power in FIFA 21, goal saving tackles will receive increased tackling skills and so on. Especially when the free kick gets scored in the corner of the goal, the FK Accuracy will be boosted for that particular player in the game.
Core Mode Improvements
When you're all set up for a new game, you can choose your terms as improvements of Core FUT Mode that makes the game even more rewarding that the normal mode. Go up and play the Squad Battles against AI so it detects your skill level in Division Rivals without needing online rank qualifiers as it used to be in FIFA 20. So, you'll get Rank I, II, III... IV and so on automatically.
The battle gets other similarly skilled players around the world in Division Rivals, where you will be rewarded your first time getting promoted to a new Division on your way to DIV 01 (with something like 10K FIFA 21 Coins).
You can also play the new Live FUT Friendly matches if you want to try something new, where squad rules and house rules get combined to give you a range of new matches that change throughout the season.
FIFA 21 FUT Stadium
This mode is meant to take customization to a whole new level for designing and customizing your own home field. Stadiums are fully customizable. Go to My Stadium, choose Sidelines and among Home End Left Trophy choose Tombstones, Goat Statue, Jack o' Lanterns, Snowman, Scarecrow or any trophy you like to your stadium.
Customizables in your stadium can be the Welcome Music, goal celebrations, etc. to make it feel like home! And even with your team growing, your home stadium will improve by time as well to make it more cheering according to your winnings.
ICONS: The FUT 100
The FUT 100 is a list of one hundred of greatest icon players that ever played the FIFA game. Pele, Zidane, Ronaldo, Cruyff, Lahm, Chavy, Eto'o, Cech and many more. The greatest players all gathered in the FUT 100 to bring back the memories of great times in Football.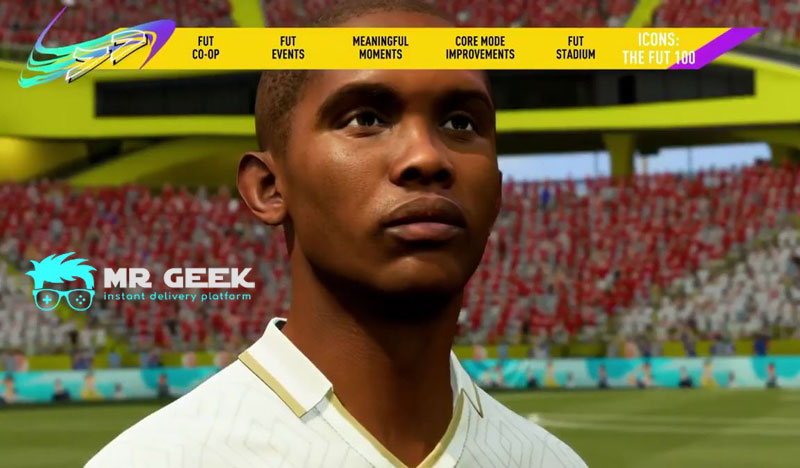 So, with all these new features and customizable stadiums and shared rewards that encourages playing with others, order FIFA 21 now and get yourself ready for week after week of excitement.
Cheap FIFA 21 Coins at MrGeek

BUY CHEAPEST FIFA 21 COINS NOW!
At MrGeek, we're pleased to announce that we're the first coin selling website that offer cheap FIFA 21 Coins for impatient gamers who want to try great icon players before it's too late! Buying FIFA Coins with MrGeek is and has always been a safe and pleasant experience. Join our community in Twitter, Instagram and other social platforms for weekly amazing discounts on FIFA 21 Coins.